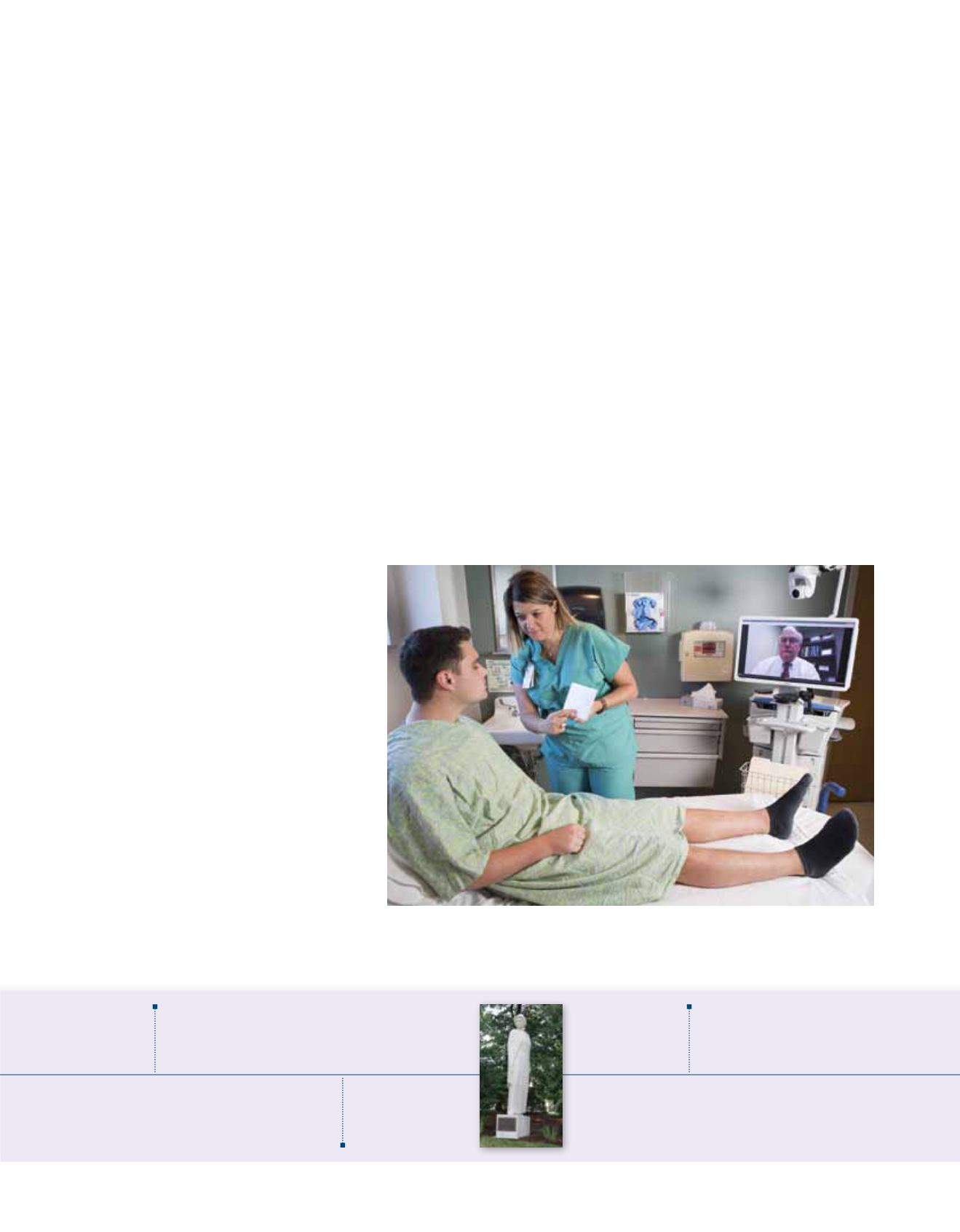 Healthcare Journal of new orleans
I 
JUL / AUG 2015
31
found that the O Bar has already helped
many patients track and analyze their own
health.
"We've had so many good patient experi-
ence stories about this, patients coming back
and saying, 'This has really made a big dif-
ference in my life. Thank you so much for
taking the time and showing me this,'" said
Dr. Milani.
"We're helping patients figure out which
healthcare apps can help them the most,"
said Thomas. "Once again, we're trying to
get patients more engaged with health and
wellness."
Wireless Devices Keep Patients
Wired to Providers
In addition to apps, wireless devices have
been one of Ochsner's key efforts for
improving patient care and reducing mor-
tality, disability, and readmission into the
hospital. Wireless devices enable patients
to transmit data to healthcare providers
from remote locations, which can help doc-
tors make real-time decisions about their
patients rather than basing information on
the one or few appointments a patient might
schedule throughout the entire year.
Telemedicine can also save time and
effort in travel time and appointments
scheduled too far in the future. In some
cases, those moments can make an enor-
mous difference.
One such device is Ochsner's wireless
scale for patients with congestive heart fail-
ure. Significant fluid weight gain can signify
that a patient's condition is worsening. Thus,
patients who weigh themselves regularly
and can wirelessly transmit that weight data
to their healthcare providers have a better
chance of catching the weight gain early
enough to make the adjustments needed to
prevent readmission to the hospital.
"We've seen about a 45 percent reduc-
tion in patients having to come back into
the hospital," said Dr. Milani. "This is great
because they get to be home with their
families and do the things they want to do
instead of having to spend their time in a
hospital bed."
In the past fewmonths, Ochsner has rolled
out a similar technology, a wireless cuff for
patients with high blood pressure that helps
themget their blood pressure under control
using real-time data. A team monitors the
patient's blood pressure data generated by
the wireless cuff, and a healthcare provider
"Patients are more likely to get the right
therapy, more likely to survive their stroke,
and more likely to go home without a
disability when they go through this process.
It's another way of really taking advantage
of technology to advance care for broad
populations who otherwise wouldn't have
access to it."
1926
A tentative code of ethics for
nurses is adopted by the American
Nurses Association.
1938
The "Spirit of Nursing"
monument is dedicated
in Arlington National
Cemetery.
1939
The American Nurses Association
establishes a policy in favor of nurse
licensure for all who nurse for hire.
e
Telestroke patient